In this day and age, online law services are a convenient way for businesses and families to get all the legal help they need. Whether you're starting a business, planning your estate, or just need to draft out some contracts, there has never been a more affordable or easy way to file forms online and reach out to experienced attorneys.
We know choosing the right online legal service can be challenging, so read on for our comparison of Rocket Lawyer vs. LegalZoom to determine which service is right for you!
About Rocket Lawyer


Rocket Lawyer is a stand out in the field of online legal services. Their mission is to make law services consistently available and affordable for any family or business. 
This online legal service's unique and innovative approach is based on the simple belief that everyone should have access to high end law services. In their own words, they aim to accomplish this "By combining free legal documents and free legal information with access to affordable representation by licensed attorneys." 
You have the choice between a simple flat rate for each document or a premium subscription service with reduced rates. Thanks to this flexibility and quick access to legal professionals, Rocket Lawyer has already helped 20 million people focus on what's important— taking care of their families and building strong businesses.
Rocket Lawyer's Legal Services
Database of premium documents

Affordable and prompt legal advice 

Numerous business services 

Wills & Trusts

LLC Incorporation

Partnered with experienced high-end attorneys
About LegalZoom


LegalZoom is a quick and convenient solution for quality and accessible online legal services that keeps things as simple as possible for you. 
Their simple philosophy is to make legal services available to the average American— after all, the law only works if it works for everyone. By taking on legal document filing and other law-related mumbo jumbo for you, the legal landscape becomes easier to navigate. They're a longstanding and incredibly popular service that has helped millions of small business owners, estate planners, and average people.
LegalZoom's Legal Services
Easy access to legal documents

Speak with an attorney at your convenience

Small business formation and other services

Wills & Trusts

Tax assistance for small businesses and individuals

Workplace benefit plans

Well-vetted attorneys who speak in plain English
LegalZoom vs.
Rocket Lawyer: Which is Best for Business Formation?
If you want to start a small business, should you use RocketLawyer or LegalZoom? Here are the ways that LegalZoom and Rocket Lawyer help customers handle the process of business formation:
LegalZoom Incorporation
From their Business Formation section, you have the option of signing up for a variety of services that depend on your specific needs. Whether you're interested in setting up a Limited Liability Company (LLC), Sole Proprietorship, Nonprofit, or simply obtaining an Employer Identification Number (EIN), LegalZoom has an easy-to-follow setup process to meet your needs.
As you work your way through an online form, any important legal documents will be identified and filled out per your specifications. Basically, this is one of the simplest ways to start your business with zero prior experience— but keep in mind that your final bill can add up if you're interested in additional legal services.
Rocket Lawyer
Incorporation
If you want to start a business with the help of Rocket Lawyer, you'll likely find yourself having to pay less than average. However, you'll also need to do some extra legwork to determine what kind of business you want to establish and what legal documents you'll need to complete.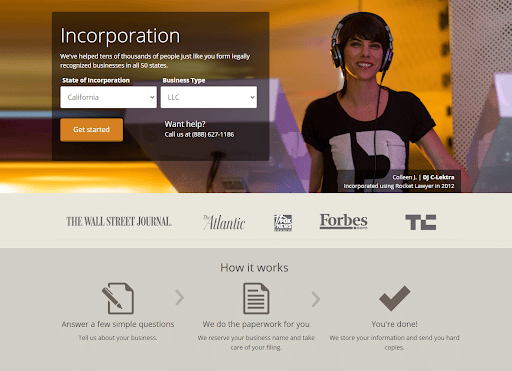 If you already know the answers to these questions, however, then this online legal service is a terrific way to complete the process. You can set up your LLC Operating Agreement, Independent Contractor Agreement, or Business Contract for free if you visit their Business and Contracts page. But if you do still need some legal advice before moving forward, they make it quick and easy to get in touch with a lawyer.
Rocket Lawyer vs. Legal Zoom: Who is Better for Wills & Trusts?
When it comes to online legal services, estate planning is important. Every family will eventually need to address this— but should you handle it with the help of LegalZoom or RocketLawyer?
LegalZoom Wills and Trusts
Much like every other aspect of their website, LegalZoom's Estate Planning page is designed to help you complete your required legal services with minimal anxiety. They even offer a bundle that includes a living trust or will and power of attorney.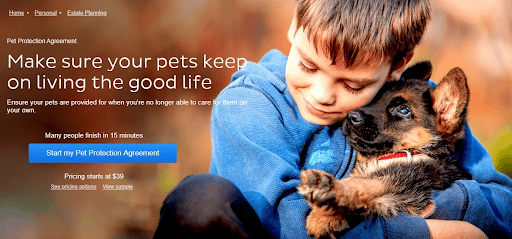 Each of their estate planning services come with documentation outlining the reasons why you may or may not need them— a level of transparency that is extremely helpful and thoughtful if you're experiencing grief over a loved one. They even offer Pet Protection legal services, which is something that you may not have even considered when planning!
Rocket Lawyer Wills and Trusts
When visiting Rocket Lawyer's Family and Personal page, you'll immediately have access to free legal documents relating to the 4 most common estate planning needs: Last Will and Testament, Living Will, Divorce Settlement Agreement, and Child Care Authorization. Being able to jump right into the form filling and filing process is convenient, but you won't have the same guided approach that you'd otherwise get at LegalZoom.
However, you can always reach out to a professional for legal advice by filling out the text field at the very top of the page. Alternatively, scrolling further down the page will reveal some helpful FAQs that can point you in the right direction— but it's still far from a friendly experience for a complete newcomer.
Rocket Lawyer vs. LegalZoom: Pricing
While there are many key differences between LegalZoom and Rocket Lawyer, the most relevant difference to most people is pricing. Which is more affordable for you? Read on to find out. 
Rocket Lawyer Pricing
At Rocket Lawyer, unlike LegalZoom, they offer a premium subscription service of 40 dollars a month which includes discounts and free offers for members. Included in the subscription is a free 30 minute attorney consultation and free access to documents, as well as heavy discounts on higher end services. While each document normally costs 39.99, this subscription can save you a lot of money if you need several different forms in a short period of time.
In addition, Rocket Lawyer's Premium Membership Services include documents that are considered more valuable or in high demand (such as operating agreements or divorce papers). When considering the tiered access to these forms — and the included consultations with lawyers — it's clear that this site encourages users to seek out their legal advice hand in hand with all their document filings.
LegalZoom Pricing
LegalZoom is a more affordable option than traditional law firms, but it's comparatively more expensive than Rocket Lawyer. Instead of their a la carte pricing or a legal firm's hourly rate, this site charges flat fees for most legal services. This is beneficial since it stops much of the price gouging that can be so common in the law industry. 
That being said, one criticism of the flat fee rate is that it can be hard to tell what the actual costs of LegalZoom are. Although a specific service will advertise one rate at the onset, several upsells and additional features can quickly cause that price to increase. However, LegalZoom offers a 100% satisfaction guarantee that is surprisingly robust for law services. Be sure to consult this guarantee before any purchase, since you could qualify for at least a partial refund if you're unsatisfied.
Rocket Lawyer vs. Legal Zoom : Ease of Use
Rocket Lawyer
Rocket Lawyer has a user friendly layout, simple interface and guided instruction for different legal tasks and forms, such as starting a business, and walks you through the process. While this is more complicated the LegalZoom's process, it teaches you how to file the forms yourself and ensures you have a greater understanding of the legal processes. This is in stark contrast to legalzoom's "to-do list" style of layout.  
Compared to LegalZoom, Rocket Lawyers guides to filing forms are much smaller and much faster to get through— sometimes by as much as 20 pages. Furthermore, digital signatures and forms can be completed and submitted online whether on your computer or for mobile and tablet users.
LegalZoom
LegalZoom is all about keeping the legal process as simple as possible so anyone's legal needs can be filled quickly. With the aim of delivering a quick and convenient option for those with simple legal needs, they implement a heavily guided approach. Each document is kept in a neat catalog by category, but it can become somewhat tedious to click through over 20 pages when you just need to generate one legal document.
This is a far more friendly and approachable legal services platform than Rocket Lawyer if you're way over your head. However, it's definitely a slog to get through if you're already familiar with many legal concepts and processes.
Final Recommendation
Rocket Lawyer and Legal Zoom are two of the most cutting edge businesses in the industry, but which service is right for you? After comparing all their features, here's our verdict:
For our money, Rocket Lawyer is the superior option in most cases. Their premium membership services are a spectacular deal and perfect for anyone with consistent legal needs. While LegalZoom has a slightly broader array of services, Rocket Lawyer has more services included within their subscription service. 
Rocket Lawyer is also the more affordable of the two, giving the most services for the least investment. Finally, while Legal Zoom may be slightly more simple to use, Rocket Lawyer's guides are shorter and ultimately take less time. 
Ultimately, it's clear to see that Rocket Lawyer is the better source for consistent and affordable legal help online!
Frequently Asked Questions
Which is better, LegalZoom or Rocket Lawyer?
LegalZoom is much easier to use for individuals with little to no legal experience. However, Rocket Lawyer offers helpful learning resources and more affordable plans. Ultimately, the best option is whichever better meets your specific preferences and budget.
Why is LegalZoom so expensive?
LegalZoom is created and staffed by many lawyers in order to provide valid legal documents and advice. This can cost more due to their high hourly rate, but enrolling in one of LegalZoom's bundles can save you money in the long-term if you need frequent legal help.
Is Rocket Lawyer any good?
Rocket Lawyer doesn't have the same name recognition as LegalZoom. However, they offer several helpful legal resources for an affordable price, which makes them a fantastic resource if you're already familiar with some legal concepts.
Does LegalZoom hold up in court?
If you provide accurate information when using LegalZoom, the services they offer will be in line with all local and federal laws. However, using LegalZoom's services for fraudulent or illegal activities will not hold up in a court of law.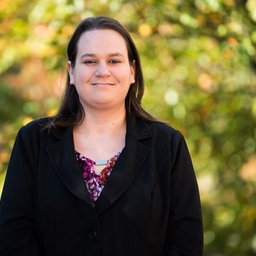 Valerie Keene is an experienced lawyer and legal writer. Valerie's litigation successes have included wins for cases involving contract disputes, real property disputes, and consumer issues. She has also assisted countless families with estate planning, guardianship issues, divorce and other family law matters. She provides clients with solid legal advice and representation.