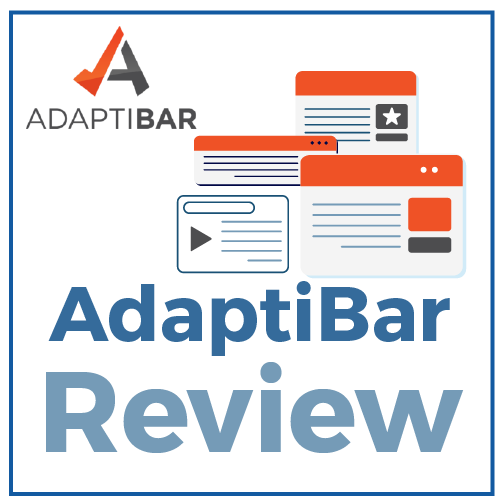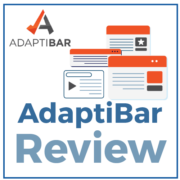 RATING: ★★★★★
Using AdaptiBar's patented, adaptive technology, licensed MBE questions,
and diagnostic tools on any device, you will receive the best possible preparation for the MBE
that is proven to accurately predict your MBE score. The AdaptiBar program also includes a mobile app for all devices.
PROS
1. Authentic Material
100% of practice questions in the program are licensed questions that have been released from past bar exams. By practicing with authentic MBE questions (as opposed to those written by test prep companies) students will be better prepared for the questions they will encounter on the actual exam. AdaptiBar recently added 200 new simulated questions in Civil Procedure and 15 in Real Property for 1,964 MBE practice questions.
2. Score Predictor
The AdaptiBar course keeps track of your overall accuracy rate as you answer practice questions while you study. The company claims that the accuracy rate generated by AdaptiBar is a relatively accurate predictor of the score you will receive on the bar exam, although some students report that the questions on the actual MBE seem more difficult.
3. Adaptive Technology
The AdaptiBar software automatically adapts questions to your strengths and weaknesses by tracking your performance as you answer questions. In the Practice Questions mode, you will be presented with more of the questions you struggle with, one question at a time, until you become better at questions of that type. The Past Performance Table allows you to see how many questions you have answered overall and calculates your accuracy in answering them to help guide your study sessions and show you which outlines to review more thoroughly.
4. Improves Time Management Skills
AdaptiBar also helps with exam pacing by keeping track of how long it takes you to answer each question. This will help you determine whether you should spend less time on particular questions and move through the exam more quickly, or spend more time on a question if it helps you select the correct answer. You only get 1.8 minutes to answer each question on the bar exam, and AdaptiBar's time tracking feature will help you learn to use your time wisely. You can also use the interactive Message Center that guides you through the entire process of preparing for the MBE. As you study, AdaptiBar will assess your performance and provide you with progressive feedback and advice on what step to take next.
5. Customizable Practice Exams
The MBE Simulator & Prep course comes with NBCE's practice exams 1-4 (100 questions each from 2006, 2008, 2011, and 2013). You can also create an unlimited number of customized practice exams to take under exam-like conditions. In the Practice Exam Mode you can choose subjects and subtopics and the number of questions in order to generate an exam tailored to your needs. Submit your exam for grading to receive a detailed exam report that breaks down your performance with respect to topic and timing in addition to detailed explanations for each answer.
6. Test Drive
Try AdaptiBar's course offerings for free to see if this program is a good fit for your study habits and ability level. You can register for a free trial that includes a small selection of simulated practice questions along with the adaptive technology and all other features of the MBE program on their website. Try it today to see if AdaptiBar is the right supplementary program for you.
CONS
1. MBE Practice Only
Many students studying for the bar exam are looking for a comprehensive review course to help them cover all the material necessary to pass their exam. However, AdaptiBar focuses only on the MBE portion of the exam which is why it should only be used as a supplement to a more comprehensive bar exam review course.
Ideal User
This focused MBE review program is best for students who plan to use MBE preparation in conjunction with a more comprehensive bar exam review course. Self-motivated students who can find the time and dedication to study on their own without a set schedule of classes or reminders will get the most out of AdaptiBar's self-paced online course.
One nice feature is that explanations are provided for both correct and incorrect answer choices to help you understand why you got a question right or wrong. It helps to know that you got the answer correct for the right reason, not just because you guessed or because you chose the right answer through a flawed reasoning process. Students can choose between the Practice Question and the Exam Question modes. You can also create a customized Past Questions report of all the questions that you previously answered in both modes that can be sorted by various categories for further review and practice.
The Early Access Option is a good choice for those who want to get a jump start on their studies. For an additional $125, this option allows you to access course materials before your session is scheduled to begin. Best for visual learners, AdaptiBar also offers online video lectures and flashcards to help you study and memorize key MBE topics.
My Suggestion
AdaptiBar's adaptive technology is good for helping students pinpoint their weaknesses and drill those content areas until they improve. Their Practice Questions and Exams make their course an effective tool to help students prepare for the MBE portion of the bar exam, but it should not be used as your primary study materials because it doesn't cover all areas of the Bar exam. Click below to purchase AdaptiBar's course.
COMPARE THE BEST BAR PREP COURSES!
Summary of Course Features
1,964 practice questions (1,749 Licensed Questions; 200 Simulated Civil Procedure Questions, 15 Real Property)
Exam Simulator
NCBE's Online Practice Exams 1, 2, 3 & 4
Adaptive Technology
Practice Question or Exam Question Modes
1,000+ Flashcards
Online Video Lectures
Customer Support via Phone & Email & Live Chat
Free Trial
Pricing
Save $30 on all AdaptiBar Prep today!
Users can now sign up for AdaptiBar and pay with PayPal Credit. PayPal Credit offers "No Payments + No Interest if paid in full in 6 months" so it is a great option for students interested in financing their bar prep.
MBE Simulator & Prep
Price: $395
Includes:
1,964
Practice Questions, Exam Simulator, NCBE's Online Practice Exams 1, 2, 3 & 4. Course may be accessed either Aug. 1st – Feb.
29
th (February bar exam) or March 1st – July 31st (July bar exam).
Baby Bar MBE Simulator & Prep
Price: $295
Includes:
814
Licensed Questions, Exam Simulator. Course may be accessed Nov. 1st – June 30th (June bar exam) or July 1st – Oct. 31st (October bar exam).
Smart Online Flashcards

Price: $95
Includes: Lifetime access to 950+ flashcards to help review for all MBE subjects.
Video Lectures
Price: $15+
Includes: Add-on option of online video lectures by Professor Jonathan Grossman. Only available in conjunction with and during an active prep course. Unlimited access to streaming videos that will not have to be purchased again if you need additional study time for the bar exam.
To compare AdaptiBar to other Bar exam prep courses, please click the button below:
COMPARE THE BEST BAR PREP COURSES!
| AdaptiBar Review | Top Features |
| --- | --- |
| 1. | Real Questions from Past Bar Exams |
| 2. | Customizable Online Features |
| 3. | Enhanced Learning Options |
| 4. | Optional Videos and Flashcards Available |
| 5. | Self Selected Subjects and Topics |
| | |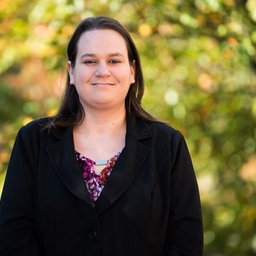 Valerie Keene is an experienced lawyer and legal writer. Valerie's litigation successes have included wins for cases involving contract disputes, real property disputes, and consumer issues. She has also assisted countless families with estate planning, guardianship issues, divorce and other family law matters. She provides clients with solid legal advice and representation.