RATING: ★★★★★
Studying for the bar exam is a serious time commitment, but there are ways to maximize your study time.
There are lots of different course and study material providers, such as Kaplan, Themis, Adaptibar, or Barbri. But not every law student has the luxury of 8 to 10 weeks of uninterrupted time to prepare for the bar exam.
Today's examinees often find themselves juggling bar prep alongside their jobs and families. Some commercial bar prep courses make impossible demands on your time that make examinees feel behind from the outset. Fortunately, SmartBarPrep is designed to help you make the most out of your study time by working smarter, not harder.
Keep reading to learn more about what makes this one of the best bar review courses on the market:
Overview of SmartBarPrep
SmartBarPrep was created by a lawyer and designed to help time-pressed examinees to pass the Bar exam the first time, by intensively reviewing the most-tested topics. Their philosophy is the "80/20" rule. The idea behind the 80/20 rule is simple— SmartBarPrep has examinees focus 80% of their studying time and energy on the most important 20% of topics.
By focusing on the most important rules, examinees can make the most of their time while getting maximum exposure to the things they are most likely to see on test day. To help with that, SmartBarPrep has condensed the most-tested rules into user-friendly color-coded outlines.
Here's a course snapshot of SmartBarPrep's UBE Pro Package:
UBE/MEE Priority Outlines

Smart Sheets – shorter "attack outlines" for easy reference

Topic Frequency Charts for the MBE, MPT, and MEE

Smart Guides to the MBE and MEE

600 real MBE questions

325 MEE practice exams with answer analysis

100 MPT exams with point scoring sheets

Electronic and printable flashcards
What's Included in Smart Bar Prep's UBE Pro Package:
UBE/MEE Priority Outlines
SmartBarPrep's greatest strength is its fantastic outlines. Having high-quality outlines is an invaluable tool during bar prep; they're your go-to reference for rules and explanations, and are easily one of the two most important resources for your studies (the other is practice questions, but more on that later).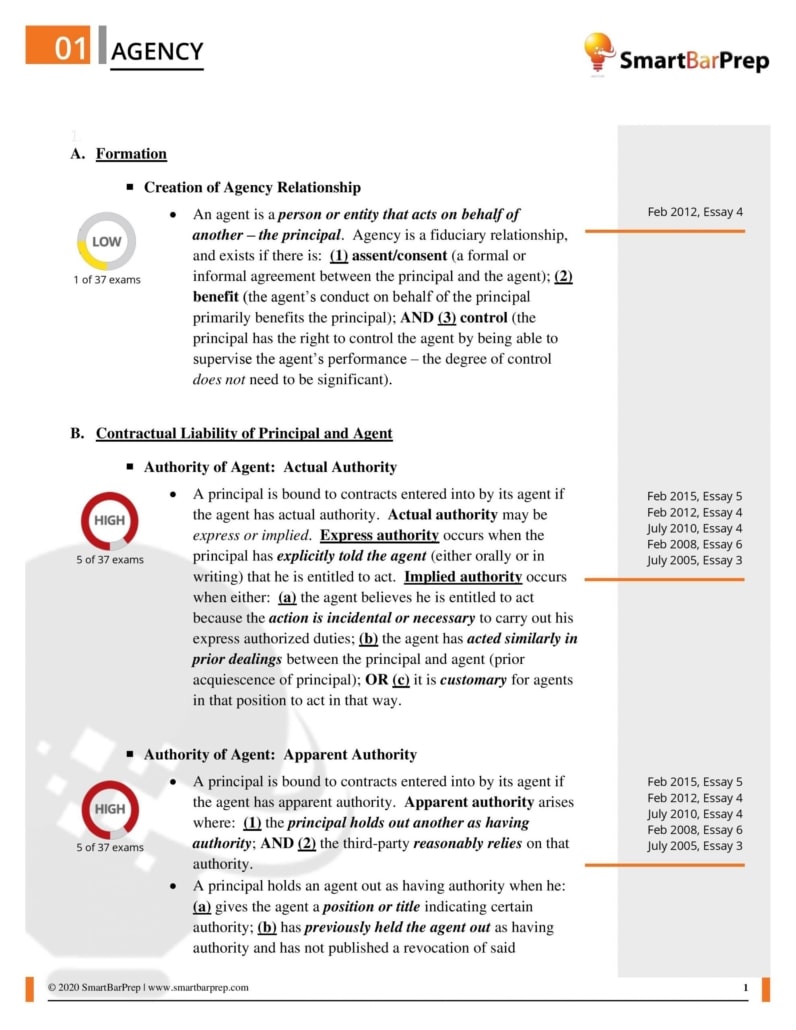 SmartBarPrep's outlines not only contain detailed rules and applications, they also go a step further by providing frequency statistics and color-coded priority levels for each rule. This is a powerful tool that'll help you focus on the most important topics and target your studying accordingly. It's particularly helpful as you get closer to test time and want to maximize the time you have left to pick up as many points as possible.
SmartBarPrep also provides context for these topics, telling you where in the exam each rule last appeared. This context can be incredibly helpful as you work to develop issue-spotting skills and recognize individual issues that might be presented as part of an intertwined fact pattern.
Smart Sheets
Similar to an "attack outline" you may have used in law school, Smart Sheets are concise (about 10-12 pages) reference outlines that are designed to complement their longer outlines. They include the same color-coded frequency data and provide a great quick reference guide that'll come in handy when doing practice MBE and MEE.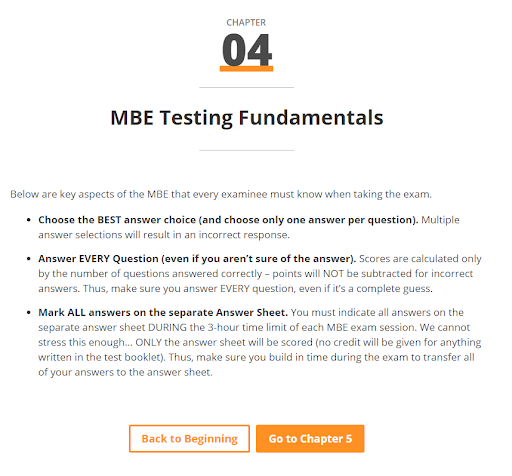 One of the best ways to study, particularly in the beginning of your schedule, is to look up the answers to multiple choice questions when you're not sure of the rule. The act of researching the answer reinforces the learning process and gives you more exposure to the rule and its context. SmartBarPrep's Smart Sheets are particularly well-suited for this purpose.
Topic Frequency Charts
These charts for the MBE, MPT, and MEE are a useful reference material for study planning. By laying out past bar exam topics in an organized chart, Smart Bar Prep facilitates a more meaningful use of study time. If there are areas that you're really struggling to grasp, the frequency charts can help put those topics into perspective.
To use a common example, the rule against perpetuities throws lots of examinees for a loop. But according to the frequency chart, it's only appeared on 10% of past exams. The savvy bar prepper will see this and divert more of their energies elsewhere. For the sake of convenience, SmartBarPrep cross-references these frequency charts with their priority outlines as well.
600 Real MBE Questions
The MBE is without a doubt the most important part of the bar exam. This multiple-choice exam question section is the most heavily-weighted part of the exam (50%). Ultimately, getting a good MBE score is not only crucial for success on the bar exam, but it can also cushion you if you're a bit shaky on the written portions of the exam.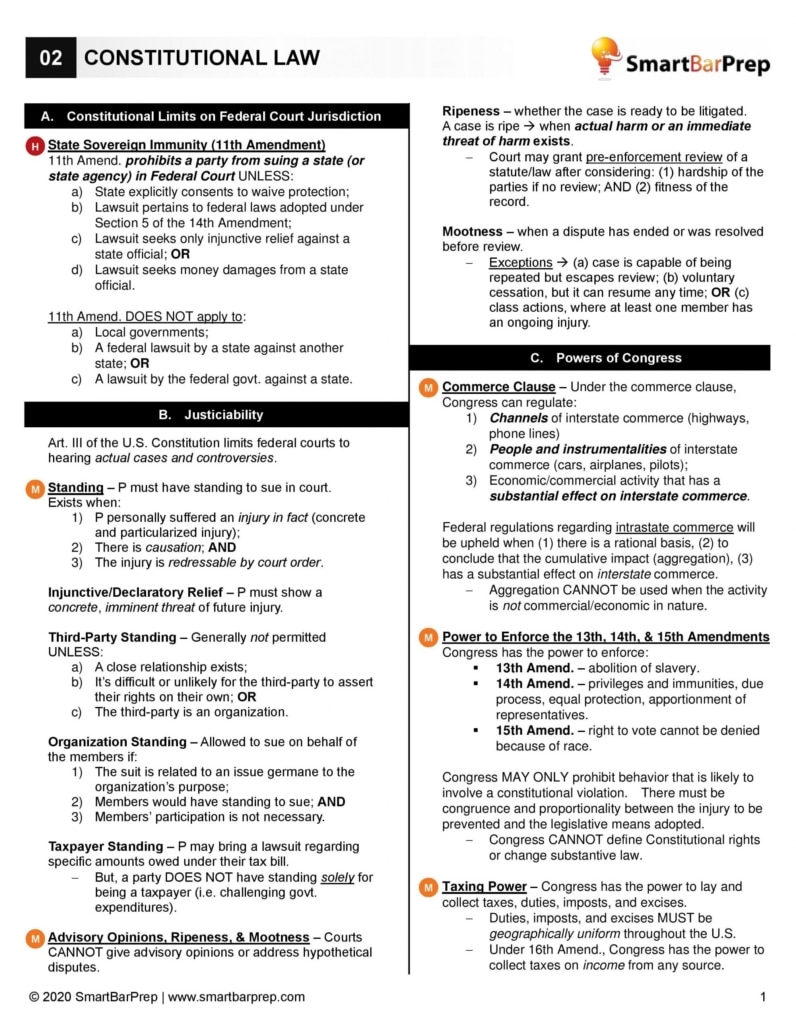 SmartBarPrep includes a bank of 600 questions from past bar exams that'll help you get a feel for the kinds of questions you'll be up against on test day. Remember, the bar exam is designed to be tricky and set traps, nowhere is this truer than the MBE portion. Smart Bar Prep's question bank is an important tool in your study arsenal.
Hundreds of MEE and MPT Questions
While the MBE is the most heavily weighted portion of the bar exam (50%), scoring highly on the remaining two sections — the MEE (30%) and the MPT (20%) — is also crucial for bar exam success. SmartBarPrep includes a bank of MEE and MPT questions from past exams complete with explanatory answers and helpful self-scoring guides.
SmartBarPrep Pricing
SmartBarPrep offers four packages at various price points. Their flagship package, UBE Pro, costs $399. For that price, you get all of SmartBarPrep's priority outlines, Smart Sheets, frequency charts, smart guides and practice questions. UBE Pro also includes 600 MBE questions, a feature only available in that package.
At $275, UBE Premium includes all of SmartBarPrep's priority outlines, Smart Sheets and frequency charts, as well as a bank of MEE and MPT questions. This package doesn't include a bank of MBE questions. If you already have a bank of MBE questions from another bar prep course, SmartBarPrep's UBE Ultimate package might be a good fit for you.
The remaining two tiers of SmartBarPrep's packages are the UBE Deluxe for $199 and UBE Standard for $124. The two packages include similar offerings; both include SmartBarPrep's priority outlines, Smart Sheets, frequency charts, and smart guides. UBE Deluxe also includes online and printable flashcards.
Ultimately, if flashcards are an essential part of your study strategy then you should consider UBE Deluxe. Otherwise, UBE Standard is a great option that will save you a bit of money.
Pros & Cons
Take a look below at a snapshot of some of SmartBarPrep's major pros and cons:
Pro – Comprehensive and Detailed Outlines: SmartBarPrep's greatest strength is its priority outlines. Outlines are an essential part of bar prep and SmartBarPrep provides you with detailed outlines covering all MBE and MEE topics. The outlines also integrate helpful frequency statistics and context to show you where each topic has appeared on past exams.
Pro – Real MBE Questions: As mentioned, SmartBarPrep's UBE Pro provides access to hundreds of past MBE questions. The bar exam tests your ability to spot issues as much as your substantive knowledge of the law. Answering and reviewing as many real MBE questions as possible is crucial to success on exam day. SmartBarPrep provides a substantial library of past questions with explanatory answers.
Pro – Practice MBE Exams: SmartBarPrep offers four practice MBE exams. Each exam includes 100 MBE questions, which is equivalent to two full MBEs. Taking a full 200-question practice MBE exam under timed conditions is an important study strategy that'll give you an idea of the time management and stamina needed to crush the bar.
Con – No Lectures: The only major con to this program is the lack of instructional lectures that are available with some of the more expensive bar prep courses. Access to videos and in-class lectures covering the substantive black letter law can be helpful, particularly if there are bar exam subjects that you didn't take in law school. These are most often MEE subjects like secured transactions or business associations. Fortunately, SmartBarPrep does include very detailed priority outlines covering these subjects.
Frequently Asked Questions
Still not sure if SmartBarPrep is the right bar prep course for you? Take a look at some of the most frequently asked questions below:
✅ Does SmartBarPrep include support for non-UBE jurisdictions?
Yes! While SmartBarPrep focuses on UBE jurisdictions, the MBE is administered in every jurisdiction so its MBE resources are useful in every state. SmartBarPrep is also starting to branch out to some non-UBE jurisdictions, including some state-specific materials for California.
✅ How Long will I have access to SmartBarPrep's online materials?
SmartBarPrep's outlines and most of their other materials come as downloadable PDFs, giving you access to them for as long as you need.
✅ Does this course offer a guarantee?
SmartBarPrep offers a thirty-day guarantee on its materials other than practice MBE questions. According to their website, "If after reading through our outlines and study guides, you aren't happy for any reason, just email us within 30 days of purchase and you'll receive a full refund."

Ideal Customer
If you're still on the fence about SmartBarPrep, take a look below to see what studying styles are best suited to this course:
If you're an independent self-starting learner who studies well on their own,

this is the course for you.

If you learn best by reading and studying from outlines,

this is the course for you.

If you are planning to take the bar exam in a UBE jurisdiction or want to supplement your own state-specific studying with MBE and MEE prep

, this course is for you.

If you learn best in a structured classroom environment,

this course is NOT for you.

If you're looking for a bar prep course that will track your progress,

this course is NOT for you.
Final Recommendation
SmartBarPrep excels at presenting the rules of law tested on the UBE in a format that allows you to prioritize the most highly tested topics. This course is an excellent resource that won't break the bank. For that reason, it's a worthwhile option for any student in need of outlines.
Overall, SmartBarPrep packs an impressive amount of important bar topics into its materials and their outlines carefully prioritize the most-tested materials to help you CRUSH the Bar Exam!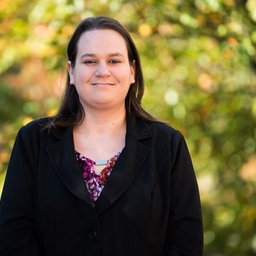 Valerie Keene is an experienced lawyer and legal writer. Valerie's litigation successes have included wins for cases involving contract disputes, real property disputes, and consumer issues. She has also assisted countless families with estate planning, guardianship issues, divorce and other family law matters. She provides clients with solid legal advice and representation.