For lawyers, the bar exam is a rite of passage. As if the whole process of becoming a lawyer wasn't already difficult enough, it's common knowledge that the bar exam is hardly a walk in the park either. 
So how can you make sure you're prepared to the fullest for your exams? By enrolling in a well-made bar prep course, such as this one:
Quimbee Bar Review+ is an exam prep course that uses an efficient design and clear messaging to provide you with unparalleled study materials. Let's jump into the specifics of their offerings— including a look at the typical student's experience using their service. 
Keep reading to see if it's a good fit for you!
---
Overview of Quimbee Bar Review+
With roots dating back to 2007, Quimbee has grown over the past 15+ years. Instead of simply offering a standard bar review course, this company claims to be "the study aid for law students."

It's a bold statement, but does it actually hold up?

When browsing their website, you'll begin to see many of the appealing features that it offers. Their track record for success is immediately apparent when viewing students' testimonials; they've helped over 600,000 law school students and graduates, including those from American University, Washington College of Law, BYU Law, and Marquette University Law School.
Essentially, Quimbee stands out due to their focus on the ideal student experience. What do we mean by that?

On the surface, their goal is to design content that helps you study and saves you time. However, they've also stated customer service is a high priority for them— so you can always expect quality content and resources.
Quimbee bar exam prep offers these features:
Planned Tasks and Study Calendar

Diagnostic Exams & Rankings

Essay & Performance Test Grading

Performance Stats

Course Materials
---
What's Included With Quimbee Bar Prep
Check out our in-depth analysis of Quimbee's most appealing study features below:
Planned Tasks and Study Calendar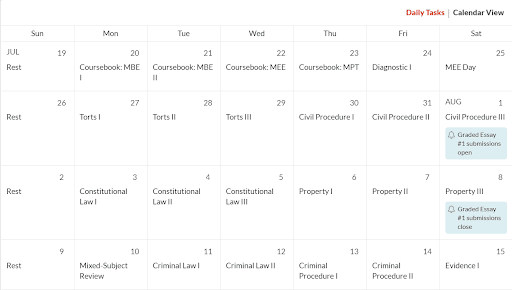 From the get-go, they aim to keep you on track with daily scheduled tasks and a monthly calendar to help you keep an eye on the course ahead. There are also reminders for essay submissions, so you can stay on top of submission deadlines and never miss a beat. 
Here's some clarification about the scheduled tasks I mentioned earlier: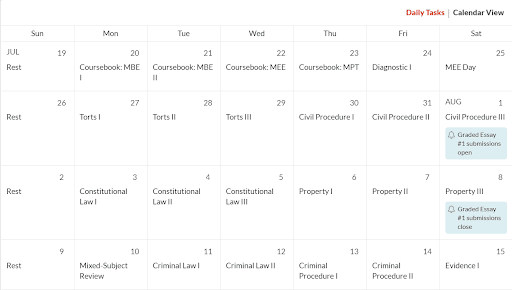 Quimbee assigns you tasks like viewing instructional videos. These tasks might also take the form of quick lessons that you are able to read through as well. The course subjects are broken into chunks which can be completed as these regular tasks. Consequently, the material that you work on is typically within the same vein or overall subject matter. This method is great for breaking down complicated topics in a way that doesn't stress you out.
Diagnostic Exams & Rankings
Diagnostic exams are a key tool in identifying your strengths and weaknesses when heading into the bar exam. Naturally, Quimbee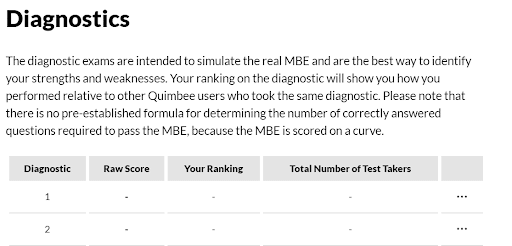 delivers on this feature in spades. WIthin your account you'll have a Diagnostics section that allows you to take a number of practice exams. From there, you'll receive your exam score as well as your overall ranking against the total number of other Quimbee students who answered the same practice questions.

The best part about this is that there is no strict schedule. You have the option to begin taking these exams at any time— you can take a different exam at different points along the way and more actively track your progress. This is ultimately helpful when analyzing areas of improvement leading up to the exam day.
Graded Tasks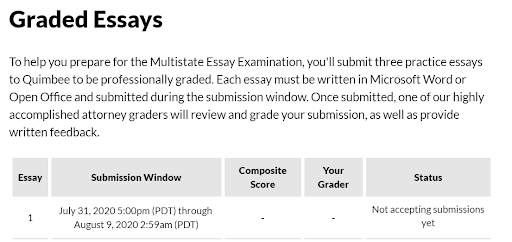 Although practice exams are helpful for preparing to answer bar exam questions, you might be wondering, "How do I prepare for the written portions of the exam?" 
Quimbee's answer to this question takes the form of essay and performance test grading. Much like their other practice materials, these are designed to replicate the bar exam as accurately as possible. You're presented with 5 separate submission windows for essays and one for a performance test (note that Florida examinees get an extra graded essay instead), and you'll need to submit your essay in the proper format— just like the actual bar exam essay portion.
Aside from simply allowing you to practice your writing skills, they provide you with another fantastic educational opportunity with this section. An accomplished attorney writing grader will look over your submission and provide detailed feedback. 
Essentially, you can use this aspect of the course to hone your response skills in a low-pressure scenario that yields insightful and professional feedback.
Performance Stats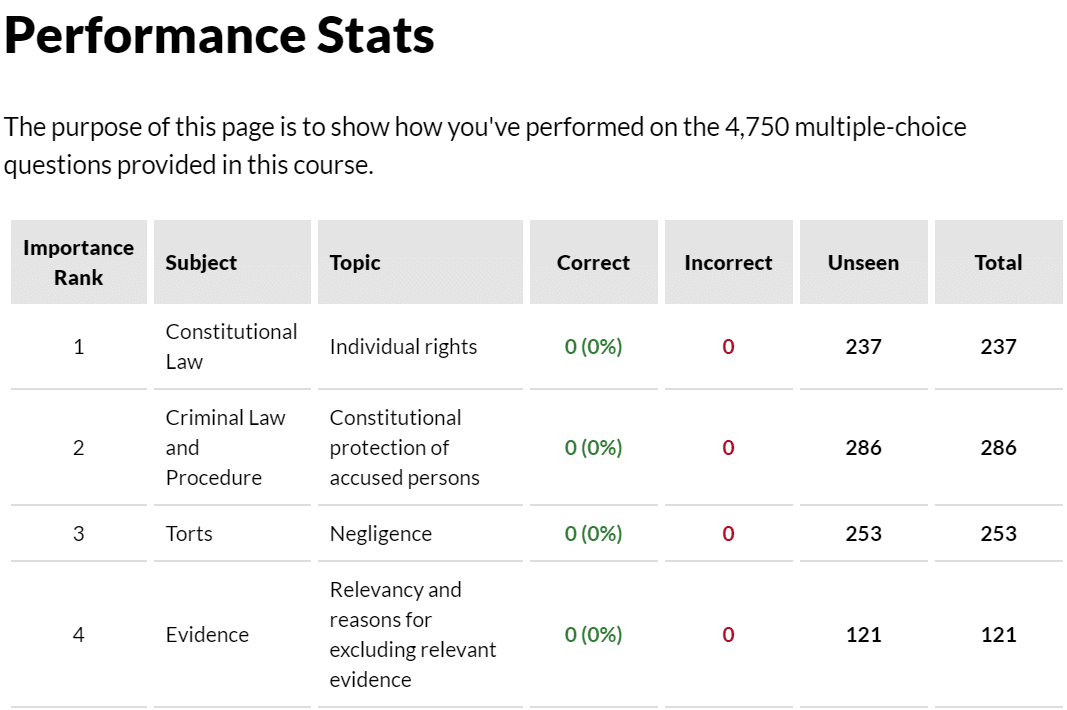 For the most part, you can expect any decent exam prep course to provide you with thousands of practice questions to work through. Quimbee is no different; over 3,200 questions (including real questions from past bar exams) are included in their course. However, the presentation of these questions — as well as the ability to track your progress — is refreshingly clear in a way that you don't see in too many other prep courses.
The performance tracking features provided by Quimbee are far more granular than other providers since they break up each subject into specific topics. Because of this, you're able to see intricate details regarding your competence in specific knowledge areas. 
This ultimately provides you with a clear picture of your progress in the course. You'll know exactly how well you're performing in your legal education and how much of each topic you still need to study.
Course Materials
According to Quimbee, you should be cautious about jumping into a section just because you might encounter practice questions that make up your Diagnostic Exams. But once you've completed those and you're ready to dig in, here's what this bar prep course has to offer:

You'll find a ton of downloadable PDF content, including Quimbee Bar Review+ Outlines in all bar subjects, NCBE Licensed Multiple Choice Questions, Licensed Essays, and Multistate Performance Tests. That's roughly 70 downloads that are all relevant to your studies or even actual exam content in some cases. This section alone is worth the price of entry, but Quimbee treats it more like a victory lap almost after you've already completed their other materials.
---
Quimbee Pricing
Everything that we have mentioned up to this point is included in Quimbee's Bar Exam Review for under $2,000. If that's out of your price range, they also offer Affirm financing that allows you to pay in smaller installments. For the amount of on-demand video lessons and print content — as well as grading from actual legal professionals — this is an excellent deal. Also, if you don't need licensed questions from past bar exams or graded essays, Quimbee Bar Review (not the + course) is a streamlined bar-prep course for under $1,000.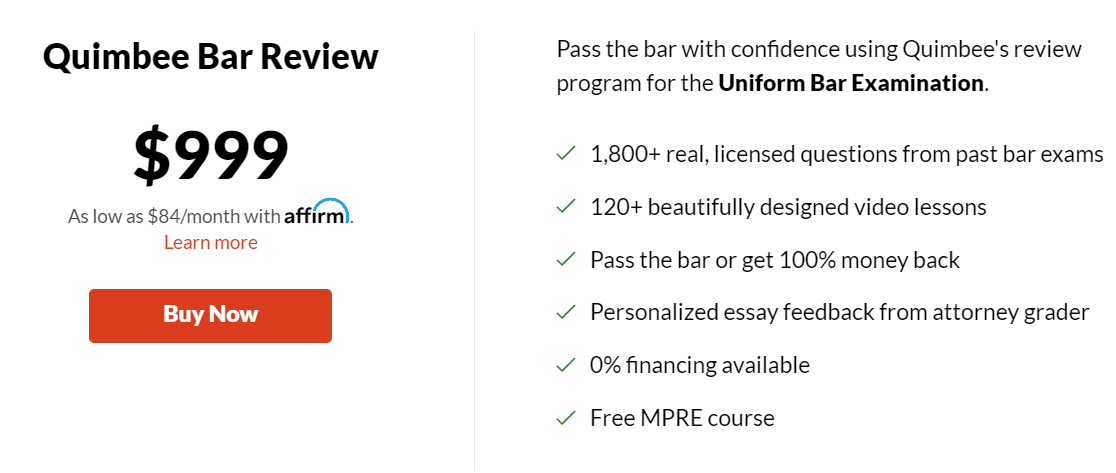 ---
Pros & Cons of Quimbee 
For a more holistic look at Quimbee's product, here's a brief list of the highs and lows:
Pro – Simplicity:

Using Quimbee is a breeze. All of their sections are clearly marked, and you know exactly what you're looking at at all times. Simply log in each day, check your study calendar and list of tasks, and you'll keep up with your lesson plan with no sweat.



Pro – On-Demand Video Content:

Quimbee incorporates videos into your lesson plan, but you also have all of this content available to you on an On-Demand basis. Take control of your schedule and access videos at any time; this is perfect if you've got strict time constraints.



Pro – Real-Time Statistics:

You'll never wonder or stress about your progress thanks to Quimbee's real-time stats. As you progress through different tests, case studies, and multiple choice questions, you'll be able to immediately check on your results and see how you are proceeding from a total overview perspective.

Con – A Whole Lot of Reading: Make no mistake; you're going to be doing a lot of reading when preparing for the Bar. However, Quimbee really piles it on with a lot of downloadable lessons and PDFs. This makes up the majority of their content— so if you don't love reading, you might want to find a different course.

---
Quimbee Bar Review+ – Frequently Asked Questions
Do you have any unanswered questions about Quimbee? We've got the answers below:
❓Q: Can Quimbee prepare me for the Uniform Bar Exam?
A: Yes! Quimbee Bar Review+ is designed to help you pass the UBE (or the California or Florida bar exams), which has been adopted by more than half of the legal jurisdictions in the United States.
❓Q: Does Quimbee Bar Review provide students with input from legal professionals?
A: Yes! With Quimbee, you will receive personalized feedback from professional attorney graders on all written submissions.
❓Q: Does Quimbee provide any physical bar exam study materials?
A: Quimbee is a mostly digital course, but you can add a print option at checkout, which includes Quimbee's bar review outlines and an MPT workbook.
---
Ideal Student
Still trying to decide if you want to use Quimbee Bar Exam Review? Consider the following points:
If you want a large library of review materials,

Quimbee is right for you.

If you want a study calendar with guided daily study tasks,

Quimbee is right for you.

If you want access to PDF downloads and OnDemand Video content in an online platform,

Quimbee is right for you.

If you do not enjoy reading, Quimbee may not be the best fit for you.
---
Final Recommendation
Quimbee makes the Bar Review process so simple and easy to follow that it earns an enthusiastic recommendation from us. 
For the price of enrollment, you receive an immense value with an even greater amount of content. The study calendar helps you to stay focused and keep you on track, while their diagnostics and performance statistics are the best way to gauge your readiness and any areas that need improvement prior to your exam day. 
So stop wasting time and sign up for Quimbee today!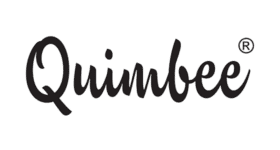 $600 Savings on Quimbee Bar Review+
uses today
Last Used: 20 hours ago
Quimbee Discounts & Promo Codes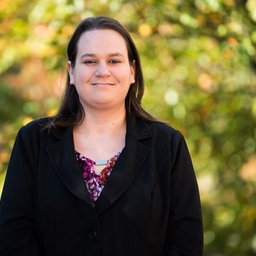 Valerie Keene is an experienced lawyer and legal writer. Valerie's litigation successes have included wins for cases involving contract disputes, real property disputes, and consumer issues. She has also assisted countless families with estate planning, guardianship issues, divorce and other family law matters. She provides clients with solid legal advice and representation.